The Definition of an Analytical Essay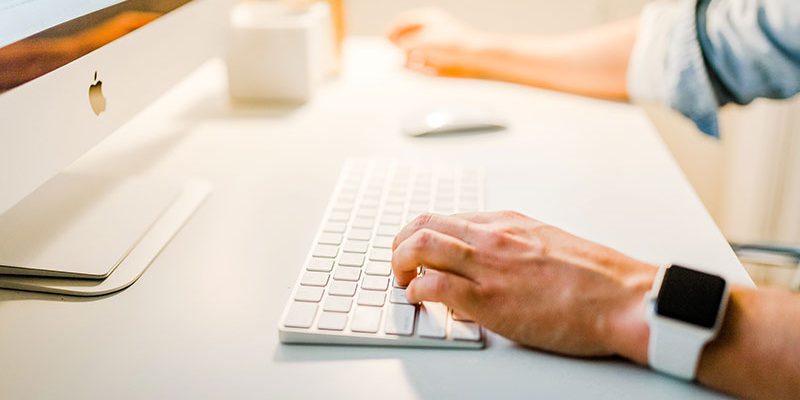 What is an analytical essay? In this type of an essay, a writer analyzes, explains or proves the definite situation, case or another object. It is not surprising that every academic assignment can be hard to complete, but, of course, it doesn't mean that you will not do it. If you know the main purpose of an analytical essay, its structure and some tricky tips you will do it without problems.
How to Start Writing an Analytical Essay?
First of all, you should determine with the problem or opinion you want to discuss and explain. Usually, an analytical essay includes an in-depth explanation of a certain opinion or view. As a rule, for students, there is a task to analyze an art-work, movie or book, but sometimes it can be a social issue. To analyze something, you need to know the object of your essay – so, first of all, carefully read a book, watch a movie or observe the appearance and history of the art-work. Then you will need to provide facts taken from the book or movie in your essay to support your statements – you need to mark some pages of a book or write down some notes that you found in a movie.
Then you should formulate a thesis, which sums up all your thoughts on the problem or object and tells readers about your position. A thesis has to inform readers which issues you are going to analyze in your essay. Make a plan – it will help you follow the right structure of an essay and you will not miss important information that can play a crucial role in your work. In your plan, you should conclude an introduction, separate the main body into few parts in which you will give concrete observations on one or another issue of your essay's topic – it should be at least three main arguments you are going to analyze. Finally, your plan should have a conclusion, here you will sum up all your opinions and show readers the results of your research.
Analytical essay outline:
Introduction: it should contain a thesis statement
Body: the first argument – the second argument – the third argument
Conclusion: here you should give a summary of your statement and restate a thesis statement
How to Gain Success while Creating an Introduction?
An introduction of an analytical essay has to involve readers into the problem you are discussing. There are some tips to do it:
include a thesis statement (it tells your audience why your work deserves attention and should be appreciated)
make a hook as it is one of the best opportunity to impress your audience (you need to give your readers the image of your essay and this image should grab their attention)
explain your intentions (it will be useful to reveal how you are going to prove your statements in the rest of the work)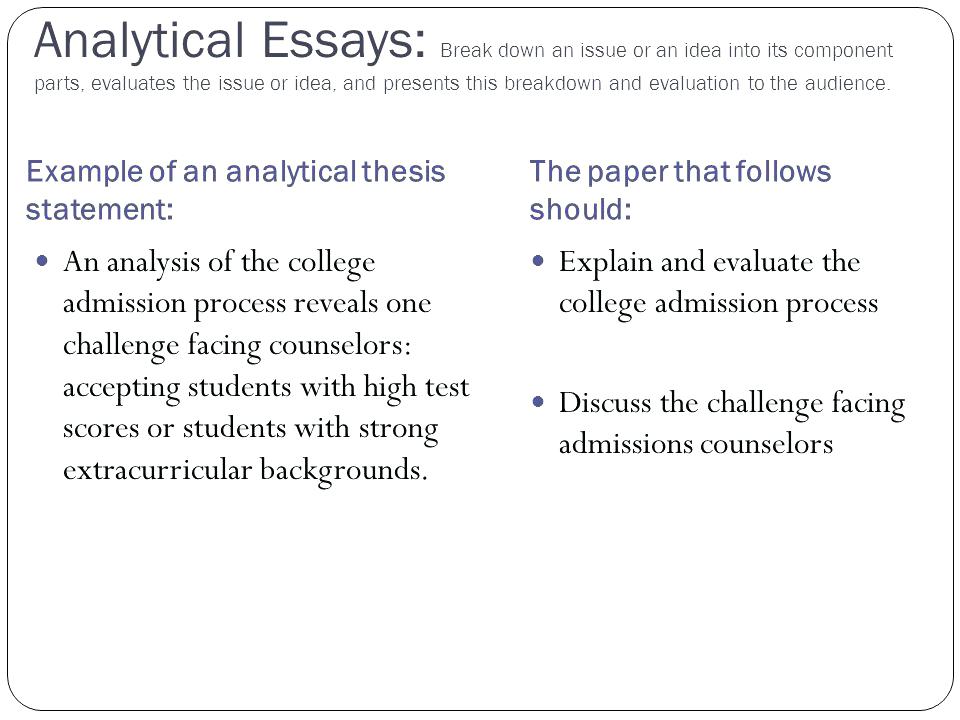 How to Make the Main Body of Analysis Essay?
Following the general structure of every essay, each paragraph should have the thesis sentence, your own opinions to explain the position and the facts that you found in the text, movie or other sources. It should contain information on the content of a paragraph. You analyze the issue when you think over the main statements you are going to prove and draw your opinion on the problem stated. Don't forget that every statement has to support a thesis. Use citations – a quote is an essential part of the work when you want to point an essence of the work and prove your argument or just take other writer's ideas for your own.
How to Write a Conclusion?
In the end of your analytical essay, you should remind the reader of proves which were given in the process of argumentation. You can also transform the thesis, but you have not to repeat word-for-word introduction, it is recommended to make this part unique. Some teachers require the formulation of a link between events in conclusion. It means that you need to demonstrate how the fact and evidence you've given in your work are related to the main idea of your paper, and how your statement can affect the reader's assessment.
Editing of an Analysis Essay
After you finish your essay, you have to edit it. First of all, take a rest in order to look at your work with a clear mind – it helps you more effectively find mistakes. It is recommended to read the whole essay aloud – such a method helps writers to detect those parts of works, attention to which wasn't paid during writing. You also can find strange opinions that have been missed and the sense of which you have lost. You can understand that some sentences don't simply illustrate your point of view. In such a case, you have to transform them into more clear and create a balanced fundament for your essay, where the quality of analyzing is very important. From the introduction to the conclusion, improve your work until you understand that the whole text is understandable and worth to be read.
Use the Following Tips to Write an Excellent Analytical Essay
Here are some tips that help you to make a work that is worth to be read:
Make a plan
Write in the present tense
Create a unique title and give some deep thesis statements
Don't forget to include evidence from the source you are working with
Avoid the usage of informal language and short forms
Don't neglect to edit and analyze the story
Give your work for proofreading to other people
Cite the sources you use properly
Make sure that your work meets the length requirement
The sources you use should not dominate your statements
Don't be shy to ask help for writing an analytical essay. Our team of profesional writers is ready to listen to all your requirements and make an effective work in time. You will be able to order the revise of your work if you have some comments or wishes.