Prices
Writing from scratch
Editing / Proofreading
Multiple Choice Questions
Problem Solving
Price per page

(275 words)

14 days
10 days
6 days
3 days
2 days
24 hours
12 hours
6 hours
3 hours
Undergraduate
Bachelor
Professional
Admission help
Please pay your attention that the VAT is not added to our price list.
---
However, it will be automatically added to the total cost once you pay for your order from EU. Also, in case you are paying in a currency different from the US dollars, an additional fee will be applied to your account for the conversion.
The price per page in the table is given in various currencies. Nevertheless, the default price at 1ws.com is fixed in the US dollars and the rest of the currencies are specified as an approximate price for the information purpose. The precise cost may change according to the exchange rates of the European Central Bank. If you ask for a refund, please note that VAT is not subject to it.
Power Point Presentation:
---
Need a presentation designed in Power Point? Order one slide at the price that is 50% off the total cost per 1 page written from scratch.
Loyalty Program
Use our Loyalty Program to pay for your orders. So the question you may want to ask is: How come? That's easy. You pay for your order and get a bonus from the sum you paid. See how it works:
1

Place an order and pay for it. Approve the order and get your 10% as a bonus.

2

Transfer all the bonuses you have from your orders to the Store credit balance.

3

Place your next order and pay for it with your bonuses.
Remember that the more orders you place the more bonuses you get. So, one of your papers will be totally for free. See more information in "My bonuses" section in your profile.
Plagiarism report
You can request a detailed plagiarism report from us to have an official proof that your paper is original – for yourself or your professor. The report will be generated right after you approve the order. The cost of this feature depends on the number of pages you order. Double-spaced papers: 1-10 pages - $9.99 and each new page will cost extra $1; single spacing: 1-5 pages - $9.99 and another $2 for every additional page.
Preferred Writer
The default option "Regular writer" is free and will get a professional writer to work on your order. An "Advanced writer" can ensure better results for a small fee. Choose "TOP writer" if you need premium quality.

The free "My previous writer" feature allows you to request your previous author for another assignment. Please note that if your previous writer is one of our TOP Writers or Advanced writers, the basic price of your order will increase in the same way as with these options.
Editor's check
This means that one of our professionals will read your work from head to tail and make changes if necessary. The editor will pay attention to any existing grammar, punctuation, or stylistic errors, and formatting as well. Just add an Editor's check extra to your order in the control panel or ask our Customer Support Representative to do it for you. The price for your order will be recalculated automatically after the extra is chosen.
Sources Used
This extra will give you access to the materials which were used by the writer while writing a paper for you. You can add it to your order on the order page. After your order is ready, the files will be uploaded for you in .pdf/.doc/.docx format or as images of online/offline sources. The extra is available for $4.99 per source.
Table of Contents/Outline
Get a table of contents for your document with this extra. Available in your account on the order page for $9.99.
VIP Customer Service
All your messages and questions will be processed and answered promptly. You will also receive SMS notifications when your order status changes. This feature will cost you $14.99.
Abstract page
Choose this extra if you need an abstract for your document. The feature is available for $14.99.
Discounts
---
We provide the following discounts: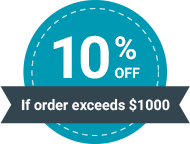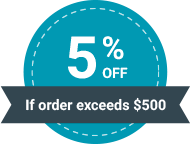 Mind that if your order is less than $30, you will not be able to use a special offer discount code. Discounts may not be combined and they are not refundable.
TAXES
---
Please note that VAT (Value Added Tax) is not included in the prices listed. VAT will be charged only to customers from the European Union. It will be added to the cost of the order at checkout.